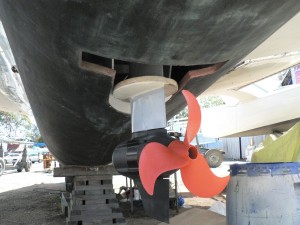 I am now an official Torqeedo dealer, and I'll use this page for technical and pricing information about Torqeedos.  Practical usage stories about my two Torqeedoes will still appear as part of the regular blog, as well as here.
To begin with I'll include some information about how I've been using the Cruise 4 as the main engine and the Travel 801 on the dinghy. (I use wordpress for this blog and I'll read up some more about how I can add some sub-pages so the information can be collated in an orderly fashion that will give you the information you need.)
Until I set up a page for the prices, you can download the pdf price list from the Torqeedo Australia website here – these are the prices I'll be using.  If you're in my area I'll hand deliver the Torqeedo and set it up for you.  If you are more distant you'll need to allow for courier delivery charges on top of the prices listed.
Go to the page Torqeedo range for details of the various motors and accessories available. You can order products from the Torqeedo Shop page.
This is how you can contact me, Chris Baker:
Phone: 0409466271
Mail: PO Box 891, Avalon, NSW 2107
email: chris-at-currentsunshine.com (I don't want to write my email address properly because I'll get lots of computer generated spam, so you'll just substitute the '@' character for the -at- )