The Blue Mountains are delightful at this time of year and I was planning to spend another day there with Con and Di when I got a message to call Deb urgently…  And her message was call Miki, urgently – something's happened to the boat but its ok.
There's a flood in the Caboolture River, and Current Sunshine has broken off her mooring. Talking to Miki I can hear the water flowing through Monty's boatyard. Every boat has dragged its anchor.
I'll catch the next train train to Sydney – leaving in 20 minutes.  So Con takes me to the station and in another three hours I'm on a Qantas flight to Brisbane. Qantas let me fly on my cheap non-changeable ticket that was booked for the next day.
Back at the boatyard the level of the river has dropped and current is faster than usual but not racing. Steve shows us some film of the earlier pandemonium, and explains what happened.
Hoodwinked was the first to drag and she crashed right into the middle bow of Current Sunshine. Her bowsprit went right through the netting on the safety lines of Hoodwinked and locked on. The impact of the collision was enough to fracture the stainless steel swivel on the top of the mooring chain, and together they were swept downstream in the flood.
Eagleloosenberg, a big steel schooner, was next to go and she dragged her mooring until she collided with the steel ketch Annalise and Tony's landing barge. Phil on board Dragon Song was swinging off the back of the barge, and the growing collection of boats in this group. He is upstream of Current Sunshine and saw her break off her mooring – he tried to call me but at 2 am my phone was off.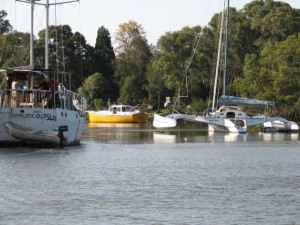 Here's a photo of Annaliese and Current Sunshine on a sunny day. Having her collide with Current Sunshine doesn't bear thinking about.
Next thing Phil noticed that his flotilla was beginning to drag. They dragged right on down to where Current Sunshine had been moored not long before.  By now Current Sunshine and Hoodwinked had gone out of sight around the bend.
Phil spent a ragged night aboard Dragon Song. At 5am Miki was leaving for work and, not expecting to be wading to the car, suspected something was up! She checked on Current Sunshine but in her place saw the barge and the collection of big steel boats. She raced back…  "Steve Steve! Wake Up! Current Sunshine is gone.
Steve counted the masts in the group of boats collected together and couldn't find Current Sunshine. Holy shit! He looked again, further afield and could make out Current Sunshine's mast sticking up above the mangroves downstream somewhere. He and Pete borrowed a dinghy and set off to find her – and Miki clambered her way through flooded fields to follow. Around the first bend they found her parked nicely with her stern shoved into the mangroves and with Hookwinked cleverly anchored again.
They boarded and hatched a plan of rescue. She was for the moment safe enough but the eddy was turbulent and could break her loose again. They first removed Hoodwinked from the bowsprit, and then dropped Current Sunshine's anchor, and let out plenty of warp. Steve gunned the motor and she pushed out into the current. But in that Eddy she spun around her anchor doing doughies until they could tie a line off to the mangroves. The motor performed well, and Steve gave it just enough power to push her against the current, and manouvre her to get her tied up and to set another stern anchor.
With three lines set, she settled down and being in the backwater she was out of the main current.
With hindsight, its clear that her breaking off the mooring was the best thing that could have happened. Had she stayed on her mooring, the barge and the other steel boats would have come down on her and done untold damage.  As it is she has some scratches and gouges from Hoodwinked and from backing into the mangroves. And the bowsprit is bent.  Relatively minor really.