Current Sunshine is back in the water again after a few months rejuvenation in the boatyard.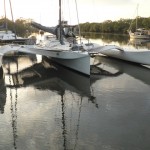 I love the stillness and early morning light on the river. Being on the river brings a lovely energy which was missing when she was on the blocks. The dusty gritty hardness is gone now and I'm more inclined to write about her and adventures again.
I gave her just a short run when she was launched two days ago but it was enough to feel how much better she steers now that the motor turns with the rudder. Her direction when manouvring is much more precise, and especially when going astern.
And as before, onlookers were surprised at how much power the Torqeedo puts out. She quickly got to 6.5 knots and the energy that was used up has already been replaced by yesterday's sunshine.
And talking about Torqeedo's…  I like them so much I bought another one!  A smaller one that I can use on the Avon inflatable dinghy – and as well it is a backup for the main motor.  I also want to make a bracket to attach it to one of the floats so it can help with close quarters manouvring.
Yesterday we tested it on the dinghy using an outboard bracket that Claude has lent me – he had in his shed a bracket made especially for the Avon – he had kept it thinking it would be useful one day. Thanks Claude. It fits perfectly and we went downriver a couple of miles to test it.  It is a powerful little motor and actually has too much force for the inflatable – it bends the back of the dinghy when on full power.  Or it could mean the dinghy is not inflated hard enough!
Anyway, that's a good start to my blogging again. More later.