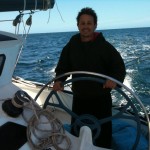 Current Sunshine is for sale.  Alas I have not been able to use her in the way that she is meant to be…  She would enjoy travelling to other interesting places but she's been here on her mooring for too long now with only occasional short trips in this area.
She needs some attention to small mostly cosmetic details.  She's been bumped here and there from incidents while on the mooring.  Clearly she is not meant to be hanging around on a mooring 🙂 So I plan to take her back up to Monty's Marina near Brisbane later this year and haul her out where it easier to attend to the knocks and scratches and get her looking pristine again.  After that she'll be for sale for $180,000.00 which is her proper price.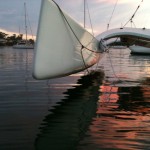 She needs antifouling and the slipways down are few that can haul her out.  There are some that will do it and it exceeds my budget just now.
But having decided to sell her I am ready to do so now.  I'd like to have a quick sale without fuss and bother.  If you are ready to become the caretaker of this boat and give her a good home I will take $140,000.00 for a quick sale for her as she is.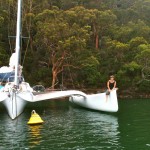 This offer is only for a limited time and when I take her up north and haul her she will be taken off the market until she's tidy again.  And perhaps then I'll have changed my mind and want to keep her.  This past week I have been working on some projects on board and it reminds me that I do enjoy it immensely and would also enjoy an adventure north to Queensland.
She has been my home now for the past 5 years and she is easily the loveliest boat I have lived on.  In this respect she has served me well. She has a great layout and far more space inside that you would believe from her external appearance.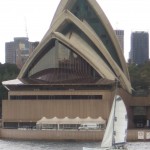 If you're interested in her, just take a quick look at the other trimarans for sale just now and you'll see that there are none that match her in looks or pedigree. This is a rare and iconic boat and if you're prepared to act quickly she can be yours.  (Well, not really yours, I see myself as her caretaker just now, and am ready to pass her on to her next caretaker.  And I would like to see her go into the care of someone who is able to look after her well. So you might want to think of yourself as her next caretaker.)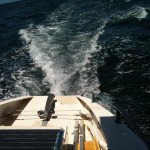 She is structurally strong as ever and I would take her to sea tomorrow if it suited me.
The details that need attention are just that, details.  She will fly through any survey inspection and if you decide to come and take a look, be warned that you could easily fall in love with her.
If you are in a position to buy this lovely boat please give me a call on 0409466271.