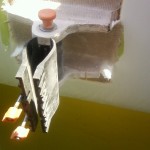 Here's how I've mounted the little Torqeedo to the starboard float. The swivel bracket is taken from a spare bracket that Claude gave me. (Misadventure I think is the polite way of saying he dropped one in the drink.)  Its takes a bit of tinkering and some suitable epithets to undo it from the balsa core flanges – but it can be done.  So only the edges of the flanges will be presented to the waves when sailing fast.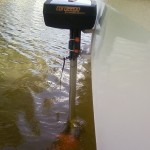 When coming into a marina that has restricted manouvring room I can attach this quick-release swivel bracket, and then slide the Torqeedo into it.  Here's how it looks attached.  The motor and shaft is attached first, and then the battery added.  So each item is quite light and easily handled – which should be handy on those days when the sea is sloppy.
With this additional thrust well offset from the main motor I'm hoping for a strong skid steering effect.  The little Torqeedo has the same prop (more or less) as the big one and so even though its a much smaller motor, its thrust should still be good, especially as it only has to turn the boat.  I'm looking forward to testing it soon.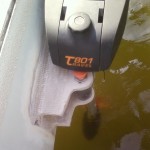 I need to get about 5m of telephone cable to allow the throttle control to be positioned in the cockpit.  It may feel a bit odd because the throttle for the main motor is a fore-and-aft lever and for the 801 is a twist grip.
I can charge the battery using its standard mains charger by plugging it into my 300 watt inverter which handles it ok.  So even though its a roundabout path the energy sill comes from the sun.