This time the main project is fitting the Torqeedo, and I also have some repairs from flood damage to complete. I have about another week until the yard will put her back in the water.
Claude dropped by to see how the installation is progressing and to offer advice – he also took a few pics…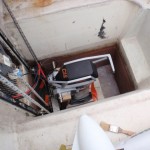 The top of the Torqeedo looks way too small for someone used to the size of petrol outboards. It means I have plenty of space in the well to fit it in, and room for adding lines and blocks for steering. I'll connect it to the main steering so that it works in unison with the rudder.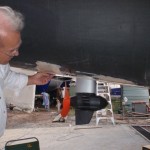 Claude lent me the book on propellers and it suggests that we need a minimum of 50mm clearance to the hull. Claude is holding a batten along the hull line to show how much clearance we have with the motor lowered to its working height.  (Click picture for bigger image).
Look how small the motor is!  The black pod is the electric motor and a reduction gear box – its amazingly small considering what thrust it produces. The Epod was much bigger than this and it means that I can reduce the size of the opening in the well.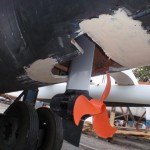 Here's another photo showing it from the port quarter, and you can see the new work I've done to reduce the size of the opening. The pink areas are the fill-in work that I've done.  You can see how fine the prop is – I think this is part of the reason its so efficient – the fineness of the prop means it has very little friction.
My mission now is to make some flaps or a wing to block the hole when the motor is down, and also when its hauled up and the boat is under sail.