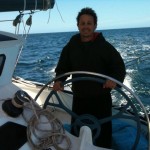 Not having a rudder was a real dampener on travelling anywhere, so no sooner than I got it back in I was itching to get moving again.
Leaving Sydney harbour was a slow and gentle process with a very light westerly to waft us along.  This is when I really appreciate the quiet of an electric motor—running at only a few hundred watts it is barely audible.  It doesn't intrude on the serenity of sailing in the quiet of the morning but helps us along at a few knots.
It feels just like sailing, but just a little quicker than the morning zephyr could manage.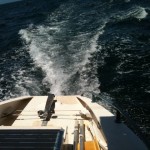 As the day unfolded the wind picked up nicely until we had a 10 to 12 knot nor-easter when we arrived at Broken Bay. And after we came in the heads and cleared the shelter of Barrenjoey headland a gust came of the hill and pushed us along at 15 knots. And with Pittwater full of holiday boats it was comforting when the gust dropped away again and we resumed a more leisurely pace.
It was good to be back in Careel Bay where I'd arranged a temporary mooring for a day.  But the allocated mooring was unexpectedly occupied and while the boatyard sorted it out we took a line from Woronora moored nearby.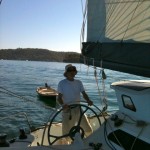 Next morning I took her to her new home at Crystal Bay, just 150m from the office.  Peter from Woronora came along for the very quiet sail to her new home. There was barely any wind at all, and again we used the motor at very low power so it didn't intrude but helped impress onlookers with our light weather sailing skills.
I now have a 5 minute commute to work—rowing in the inflatable.  Not having to drive the hour from Balmain each day is nice change.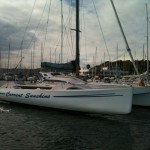 And already my sleep is better and my days go along much more easily.