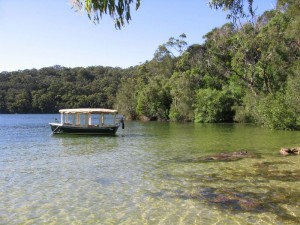 Last Friday was nice sunny day and I'd arranged to go boating with Steven from Eco-Boats down at Northbridge. Steven's business is to sell and rent electric boats of various sorts and I went for a tour around Middle Harbour on his 16ft Duffy launch. Looking as though it should be on an English river with its full awning its actually really well suited to the Australian sunny days.
It makes for a really pleasant way to explore Middle Harbour. The boat is kept at Northbridge Marina and we cruised around to Bantry Bay which I remember from 80's when I sailed on Sydney Harbour in a yacht owned by me and a mate, Chris White. (You can catch up with Chris and Dianne on their blog). Bantry Bay was one of my favourite places in the harbour – its amazing because from the bay, all you can see around you is wild Australian bush.  And this is in the middle of one of the world's busiest cities. So it was a treat to go back to Bantry Bay and find that its still as private as ever – mind you it was midweek when no one else was there – Steve tells me it can be crowded on summer weekends.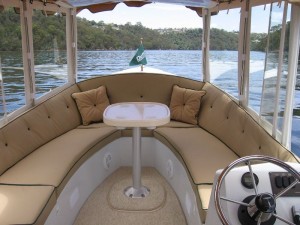 This boat is imported from the US and Duffy makes the whole package.  It runs on six 6 volt batteries and you can easily get a good half day's cruising from a charge.  The prop is attached to the rudder, so its really responsive to steering and can turn in its own length.  This makes it quite easy to drive for people who aren't experienced with boats.
If you'd like a day out on Middle Harbour and like to try out the silence of an electric boat, check out Steve's website for all the details you need.
He also imports various electric drives for retro fitting to diesel powered cruisers and sailing boats, so its a good site for those interested in converting to fume free boating.