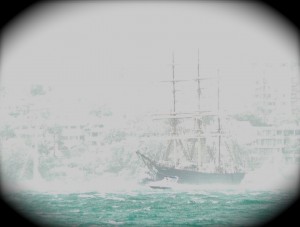 A southerly change was predicted for Saturday afternoon and I wanted to be anchored in Farm Cove by the middle of the day to be ready for it.
Farm Cove is between the Opera House on one side and the Botanical Gardens on the other. We'd picked up a few visitors at Cockatoo Island and planned to take them for a quick sail to the Harbour Bridge and back. Saturday on the harbour is pretty busy and when we turned to sail back I wanted to have the motor ticking over gently just to help with tacking and to be sure we could easily avoid potential collisions. But the throttle was loose and I decided it was best to go straight to Farm Cove.
Jen and Ollie and troops will have to find their own way back to Cockatoo Island.  A friend's speedboat soon appeared to take them back, and we settled in at Farm Cove.  I took Tim and Finn ashore to explore.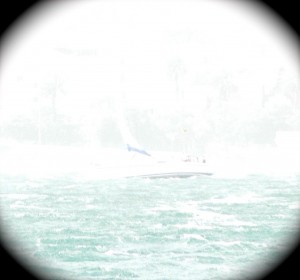 The southerly hit. Zero to thirty knots in 10 seconds. Current Sunshine was well anchored and rode nicely to the gale force winds. (According to the beaufort scale, wind speeds 34 – 40 knots is a gale. On Current Sunshine maximum wind was 38 knots, and on nearby Fort Denison weather station the average wind was 35 to 45 knots).  She provides a nice observation platform with the wind and spray going right past and allowing me a nice view out the main hatch while having a cuppa.
There's a square rigger being blown down towards the far shore and seems to be struggling to keep station. There is a lot of mist in the air and its difficult to get a nice photo because it looks so washed out in the distance. Soon enough a tug appeared and warped onto her bow to pull her out. As she got closer I could see she is the James Craig. In these photos I'm looking north towards Cremorne Point. Torn spinnakers and frantically flapping jibs were the order of the day for yachts on the harbour.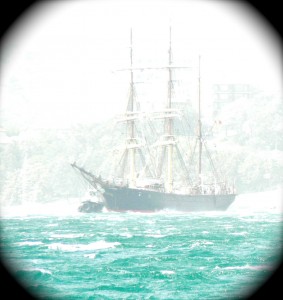 In the photos keep in mind that the wind is blowing away from us, and so we see the back of the waves – even so the white caps are clearly visible.  And where I'm anchored is close to shore so there is no fetch.
Later when the wind died down enough for Tim and Finn to be picked up, only one oar remained in the dinghy, and when I went ashore the motor stopped part way – I think some wind driven rain may have affected the electricals.  I managed to guide the dinghy to the jetty at the Opera House with the one oar.  But the wind still too strong to row one-oared against it.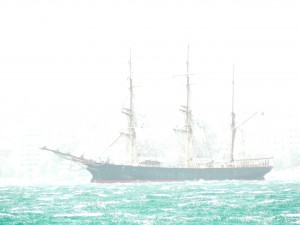 We hailed a water taxi, and after some brisk negotiations about price, he took us out to the mother ship, dinghy and all.
PS attention technocrats – the battery log is updated