Yesterday I was able to test for about 40 minutes…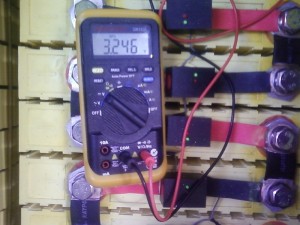 I gradually increased the power to 4500 watts and at all times the pack voltage and individual cell voltages stayed high. No sagging under load. So the problem was indeed a poor interconnection.
At 4500 watts though I got a 'thermometer' icon on the Torqeedo and it automatically reduced power to 4000 watts. I manually reduced it back to 2500 watts shortly after. And soon the temperature warning disappeared.
I felt the control head of the motor and it seemed barely warm. Looks like I'll have to resort to the manual to check why. (later: this icon indicates the motor is overheating. Makes sense – it is rated as a 4kw motor and 4500 watts is 12% overpowering it)
Today I'm running the motor some more and at this moment the drawdown is 101 ah so the pack is about 50% discharged. The voltage is still good at 51v with a load of 1500 watts. Being on the dock, with the tide going out I'm running in reverse – in sync with the tidal flow. But its beginning to cavitate at this power so I'm not giving it more than this.
All the terminals, connections and cables are cold – so there's no high resistance 'weak links' this time.
details in battery log