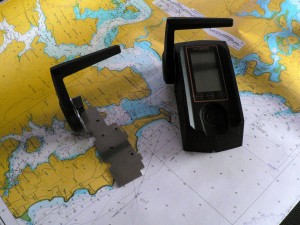 Back in Sydney Harbour about two months ago I had a problem with a wobbly throttle control.  I anchored right away in nearby Farm Cove and that afternoon Claude instructed me on making a temporary fix using Loctite to stop the bolt from loosening again.
Since then Claude has been to The Torqeedo factory and returned with a new throttle control of a new design that precludes this problem from raising its head again.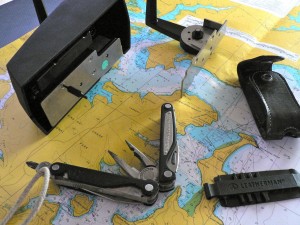 The mounting plate is held by torx head bolts which I can undo with the Leatherman tool.  Crikey! A leatherman is a handy thing to have on a boat.
Removing the mounting plate reveals an intriguing connection between the throttle lever and the control box electronics.  Well, actually no physical connection at all – its uses a magnetic field for this analogue to digital interface.  This is a nice idea for a marine environment – its leaves no entry point for water.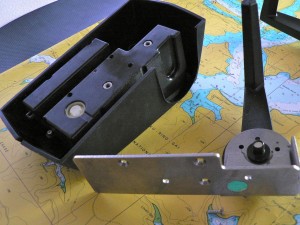 This job only took a few minutes (and even longer to take photos of and write about!) and I gain a spare throttle lever. Now thats fixed I have no excuse but go on with repairing the cockpit seat.
The chart is of Broken Bay, of which Careel Bay is a minor part, on the edge of Pittwater.  I enjoyed plotting our course down to Sydney, and then Port Hacking – the chart plotter was out of action due to losing the GPS antenna. Which is a pity cos it cost $475 for a new one. Even though I sometimes plot our position on a paper chart, it comes from the GPS coordinates.  So it was fun to do it from compass bearings and other coastal navigation techniques.