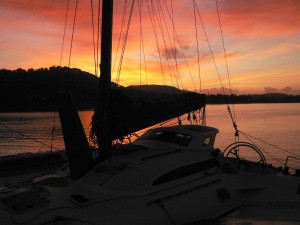 Sunrise this morning over Careel Bay is just how I feel just now. Peaceful and lovely. My life is unfolding in joyful way just now.  And really its more to do with my inner being than my life's circumstances – which are admittedly, like a Careel Bay sunrise, pretty good.
I'm enjoying tinkering on Current Sunshine, and catching up with friends, and getting to know new ones. And getting better connected with myself.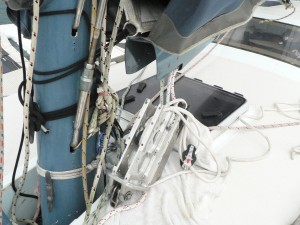 When I was sailing back with Tim and Finn the outhaul stopped working and foot of the mainsail got very slack.  Just a little problem – a shackle had come undone inside the boom. And just a few seconds to put it back together and tighten it up.  But many hours of satisfying tinkering pulling the boom apart to find what had gone wrong, and to reach the renegade shackle.
Such 'problems' are a delightful way to spend a few hours and keep me in touch with my essence, and seagulls.  And, by the way ,who have no compunction about crapping on the floats where they like to spend their evenings telling stories.
I've been catching up with old friends in the Blue Mountains – now that I have my car here I can drive there in a couple of hours.  Con and I will be going on adventures soon, so we have planning to do. And to farewell Katina and Simon who are moving to New Zealand bro.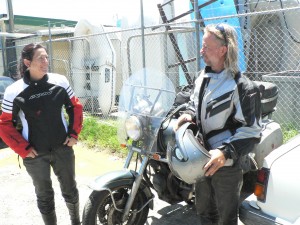 And Tarci and Sue dropped by here travelling on their Moto Guzzi.  Their other vehicle is a Warram catamaran, which is soon to run entirely on the sun.  So we've been yarning about Torqeedo motors and Lithium batteries and life.
I'll be able to help them set up their system and with bit of luck and learning from my experiments, should get it going quickly and easily.
And talking of experiments, I have a new prop from Claude – its called a speed prop – and when we trialled it when Tarci was here. Top speed seems similar and maybe even less than with the standard prop.  We reached 6.5 knots, but when we turned and went back the other way, the speed dropped. Even though we tried to have the light wind on the beam, I think we misjudged and had it a little aft on the first run, and so it effected the results.  It appears to be similar or slower than the standard one.
But hey, its sure rocks in reverse. If you've been following this blog, you'll know I was disappointed with the Torqeedo when going astern.  No longer.  With this 'speed' prop reverse is really strong and when doing about 4 knots forward will stop her really quickly.  We didn't actually make any measurements of reverse power but I hope to that soon.
Well – I have tinkering to do, energy to feel, and visitors coming, so enough of the blog…