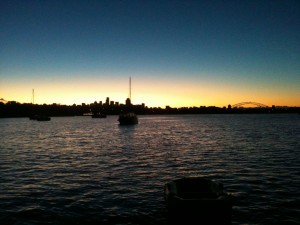 So I could have nearby accommodation while manning a stand at the boat show I brought Current Sunshine down to Woolwich Marina. Andrew Bray came along for the ride and we chased Plastiki but couldn't quite catch her. Halfway down from Pittwater we caught site of Plastiki—not hard to spot because of the swarm of new choppers buzzing around her.
And in case you're wondering why we couldn't catch her—she was being towed, and fast.  We were sailing to windward at 8 to 12 knots and she was drawing away from us so we couldn't get close enough for a picture.
The rolling at Woolwich was tragic due to the fast river cats which whizz past way too often.  And around the Woolwich are there's not a corner store anywhere close.  There's a handful of restaurants nearby but I didn't check them out before I found an available mooring over at Balmain.  There's easy parking and friendly folks at the marina but it wasn't enough to balance the rolling.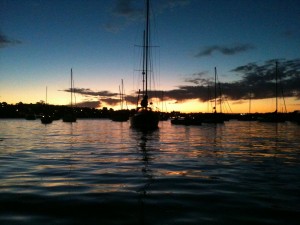 Cameron's marina at Balmain is a quirky old boatyard where they work with real timber. When I arrived they were slicing up a huge log to get some very thick slabs of timber for their boatbuilding.  I'd like to find out more about the kind of boats they build there cos it looks pretty interesting.
Rob Tearne is a craftsman there who likes to build traditional wooden boats and I've seen some of his work in the form of a Viking style rowing boat that was near my office at Princes St Marina. It caught my attention because she looks easily driven and would suit an electric motor really well.
Balmain has lots of bohemian shops and cosy cafes and they're just a few minutes walk from Camerons.  This marina is snuggled in between some houses and from the street its hard to find the entrance – just a narrow walkway down some higgledy-piggedly sandstone steps. I think I'll like it here…